Desirée Douglas – Finding Peace at Heron Way

I first heard about the opportunity to volunteer at a community allotment through a friend during lockdown.   Heron Way allotment appealed to me because it was outside work, and I always liked the idea of growing my own vegetables but didn't have a garden or allotment with which to do it.  I also liked the idea of contributing as well, because whoever joins – and anyone can – gets to share in the produce that's grown there.  So, I went along one Sunday and have been going regularly ever since.
It's been a real learning experience.  We've grown broccoli, corn, rocket, lettuce, tomatoes, marrow, cucumber, carrots, beans, peas, potatoes, and some herbs.  We also keep chickens. Right now, we're also looking to increase the diversity of plants at the allotment to encourage more wildlife.  To this end we're working on turning part of the allotment into a wildflower area, to attract the bees.
 We adopt a permaculture approach.  It's a sustainable ecosystem. We're looking into composting at the moment.
 Like a lot of people, the lockdown experience prompted a need in me to be outside, amongst nature.  When I started, that was the overwhelming sentiment amongst everyone at Heron Way. Gardening is good for the soul, and when you're at the allotment, you can just forget all your worries and get planting.  There's always a lot to do so you just get stuck in.  It's a nice atmosphere and I like the camaraderie. I didn't do much planting before this to be honest.  I just always had a few plants on the windowsill. When I moved to Feltham, I had a bit more space in my flat to experiment with growing veg indoors and my interest in gardening grew! There's a lot to learn, and not all of our growing projects have gone to plan, but then, that's how we improve as gardeners.  Sometimes it can be slightly overwhelming as there's always so much to do!  But in a good way. 
 If anyone is interested in volunteering at Heron Way, you can contact Rin on 07904 406507 or email email2rin@yahoo.co.uk.
Nic Moore, Friends of Handworth Park.
"Friends of Hanworth Park was set up by a small group of like-minded residents over twenty years ago.  It was a totally informal group and we're still going!  Although these days, we're a bit depleted in numbers.
One of our biggest achievements involves the playground for kiddies and older children, which was relocated to its present position around fifteen years ago.  Sadly, it suffered from mismanagement from contractors over many years until it became virtually abandoned and subject to consistent vandalism.
I was encouraged to apply for a Capital Funding Grant to completely refurbish it and was delighted to be advised that my application had been granted late in 2021.
We received £96,500 and it's been a huge success, with at least a tenfold increase in usage.
It's amazing what you can do with a bit of community pressure!  But it wasn't just us.  If you want to make a difference to your community there's always like-minded people out there and I would like to acknowledge the help given to me by the Friends of Hanworth Park House, in particular Sarah Houghton.
There was also the huge support given to me by Michelle Hutchinson from London Borough of Hounslow's Thriving Communities team.  And Lee Williams from the Council for putting the quotation together and appointing the various contractors involved.
The original impetus was to preserve and improve an area that has incredible history.   Before Heathrow was built, Hanworth Air Park was a famous Aerodrome, a place where the Graf Zeppelin was tethered.
It was also a site where Aston Martin had a production facility and where Hanworth Park House still stands – just.  But that's another story.  If you're lucky enough to own an Aston Martin from 1948 to 1964, it'll have Feltham marked on the chassis plate!
I volunteer because I want the best for Hanworth Airpark and the people that live in the area.  It's worth the effort because I know things can change.  For the better".
Julie Haworth- Park Life 
I've tried volunteering before, bits and bobs, through my work, different things.
Then just under a year ago I retired, which gave me an opportunity to go and look at how else I might use some of my time.   I made a conscious effort to think about where I wanted to volunteer.
I'm very passionate about helping others and I like exercising.  I like being outdoors, but I also like meeting people and I'm a chatterbox!   By accident, I just happened to come across Let's Go Outside and Learn and it so happened that they were looking for volunteers.
I liked what they had to say. I like the ethos and it suited me.
The concept is an interesting one. I believe there's five things that make life bearable and in turn, make you happy: being outdoors, interacting with people, learning and exercise.  Coupled with doing something for others, it ticked all my boxes`.
The charity does many different things and various funded projects, and my thing is simply walking alongside people. People that may be a bit lonely or isolated.  There are plenty of opportunities out there to meet likeminded people, people that are in your similar circumstance.  But that didn't really interest me.   I can go and meet with friends any time, I don't have to belong to a charity or volunteer to meet people, although people obviously do.
I wanted to give my volunteering time to people that are a bit more in need.
I didn't know there was this amazing place called Inwood Park in Hounslow. We've got these wonderful community spaces and I'm helping people access them and know more about them.
It could be as simple as looking up at the trees or looking at the clouds. Or as we were on Monday, looking at the blossom.  You're being more mindful.   We're getting out, meeting other people, noticing what's around, and learning something.  It helps focus my mind.
I've realised there's something bigger in this world.   Bigger than me. A positive sense of perspective.  It's a very simple concept and it does an awful lot of good.
So, for me, it's about giving my time to a good cause. But it's also something that makes me happy.   I do it on Monday mornings and I wake up and think 'Oh great, it's Monday morning I'm going to meet a bunch of people. I'm going to go outside!'.  That wasn't always the case when I was working full-time!
Every Monday it will be a different place. Inwood Park, Redlees Park, and then sometimes it's somewhere a bit further afield; Strawberry Hill House gardens for instance.
We saw a friendly heron there recently!  It came right up to us.  Must have been a baby.
It had learned this new behaviour that said, if there's people, there's food. They're usually very shy.
It was another example of the remarkable little things that now happen every week.  I look forward to them.
Let's Go Outside and Learn is supported by Thriving Communities Grant Funding issued through London Borough of Hounslow
Kishan Kansara, Environmental Champion in Hounslow
Kishan turned his professional experience and personal interest into making a positive contribution to his community, becoming an Environmental Champion during the first national lockdown. He is a firm believer in the power of community and a need for collaborative action in battling climate change, saying 'both multinational companies and individuals need to pitch in to make our planet better. Through sending out the right positive message, we can vastly improve our planet together.
'My role specifically is championing two major projects for our borough. The first, which we are really excited about, is our beehive project. By putting beehives around the borough, we are aiming to improve the overall ecology of our area. It is our hope that, on top of improving the long-term environment in Hounslow, this project will help inspire the future generation about the importance of our environment and this will trickle down in the future for years to come.'
'Secondly, we are promoting a project of having participating residents allow the use of their outside wheelie-bin (in front of homes) to double up as a bin for others walking about. Participating homes will be given a green sticker that they can stick on their wheelie bin.'
'I'm so glad to be a champion and enjoy being at the forefront of pushing Hounslow's climate change initiative. '
Finally, Kishan encouraged other residents to join him in volunteering their time to tackle the climate crisis stating that there are many 'great opportunities for all residents to take part in a range of different levels of involvement so that everyone will have the opportunity to do as much for the environment as they can. It's very exciting to see Hounslow pushing this initiative, as it gives us residents better control to impact on what our borough's environment will look like in the future.'
Charlotte Bullock, Environmental Champion in Hounslow
Passionate about climate change, Charlotte was encouraged to become further involved in local climate action away from her start-up. She found details of the Environmental Champion initiative and did not hesitate to sign up.
'My role as a champion chiefly, is to represent the issues to do with my local area and coordinate this with what the council is doing in terms of positive environmental change in my community. I do this by being a WhatsApp admin for my road, where I share pertinent information about what can be done to improve our area's biodiversity. Such as the recent article I wrote for my local newsletter about the importance of hedgehog holes in the garden; I attended a webinar about this issue and helped to disseminate and circulate the information to my local community.'
Charlotte hopes that such local action will create a 'ripple effect', encouraging others in the community to also become more active on the issue. 'Ultimately, it will hopefully get to the point that it will be socially unacceptable to harm our environment.'
For Charlotte, declaring a climate emergency in Hounslow was a 'really good' development from the council. On her own involvement, Charlotte said 'I enjoy being a champion, even though it is still early days, I like being able to raise issues concerning my local neighbourhood and having the power to alert people to what's going on.'
Mukesh Malhotra BCAv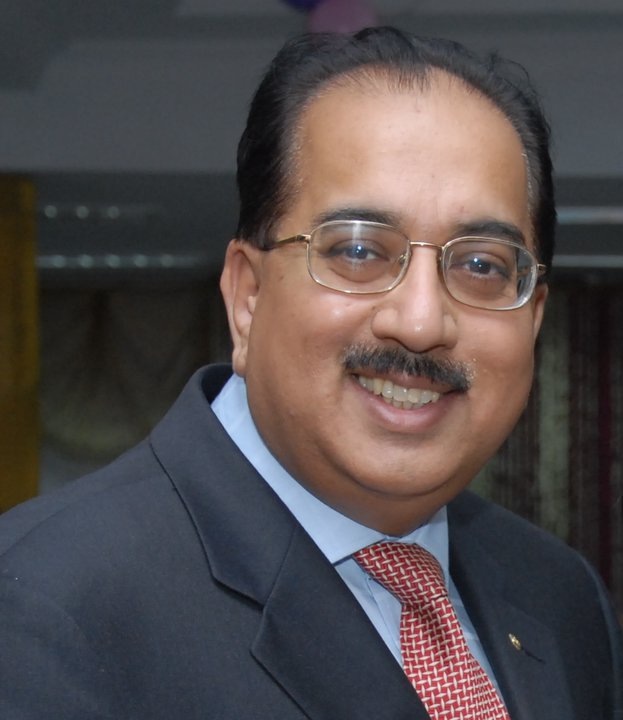 Mukesh Malhotra, a member of Hounslow Rotary in London, has been honoured with recognition in the 13th British Citizen Awards.
The British Citizen Award honours individuals for making a positive impact on society and in the community, celebrating a multi-cultural Britain with the 27 medallists coming from all over the country.
For nearly 20 years Mukesh has volunteered within his community and has also played an instrumental role in the global fight to end polio, an infectious disease which can paralyse or even kill young children.
He is currently Director & Chair of ThamesBank Credit Union, an unpaid role, which is a financial cooperative owned solely by members to provide a safe place for savings and access to loans. Mukesh also speaks regularly at colleges and universities on Third Sector topics such as credit unions, food banks, rough sleeping and cyber security.
Through his involvement with Hounslow Rotary, he co-founded 'Rotary World's Great Meal to Help End Polio', with Susanne Rea, which globally has helped protect over 18.5 million children from polio worldwide.
Mukesh is also Trustee of the UK arm a water charity called Roll Out The Barrel, whose primary aim is to transport clean water, that 'last mile' from the water pump or borehole using 35 litre water barrels which can be pushed or rolled rather than carried.
The British Citizen Award honours individuals for making a positive impact on society and in the community."
In addition to the above, he is Trustee of Disability Network Hounslow, supporting people with physical, sensory or mental impairments living and working in Hounslow through providing advice, information and advocacy. Throughout all Mukesh's voluntary work, he has helped many communities both locally and nationally.
Dame Mary Perkins, Patron of The British Citizen Award, said: "Those who have been nominated have come from all over the UK and are truly 'unsung heroes'."
"Your story has inspired me and you thorough deserve our recognition and our thanks for the extraordinary contribution you have made to society."
"Your selfless efforts make our world a better, safer, healthier and happier place."